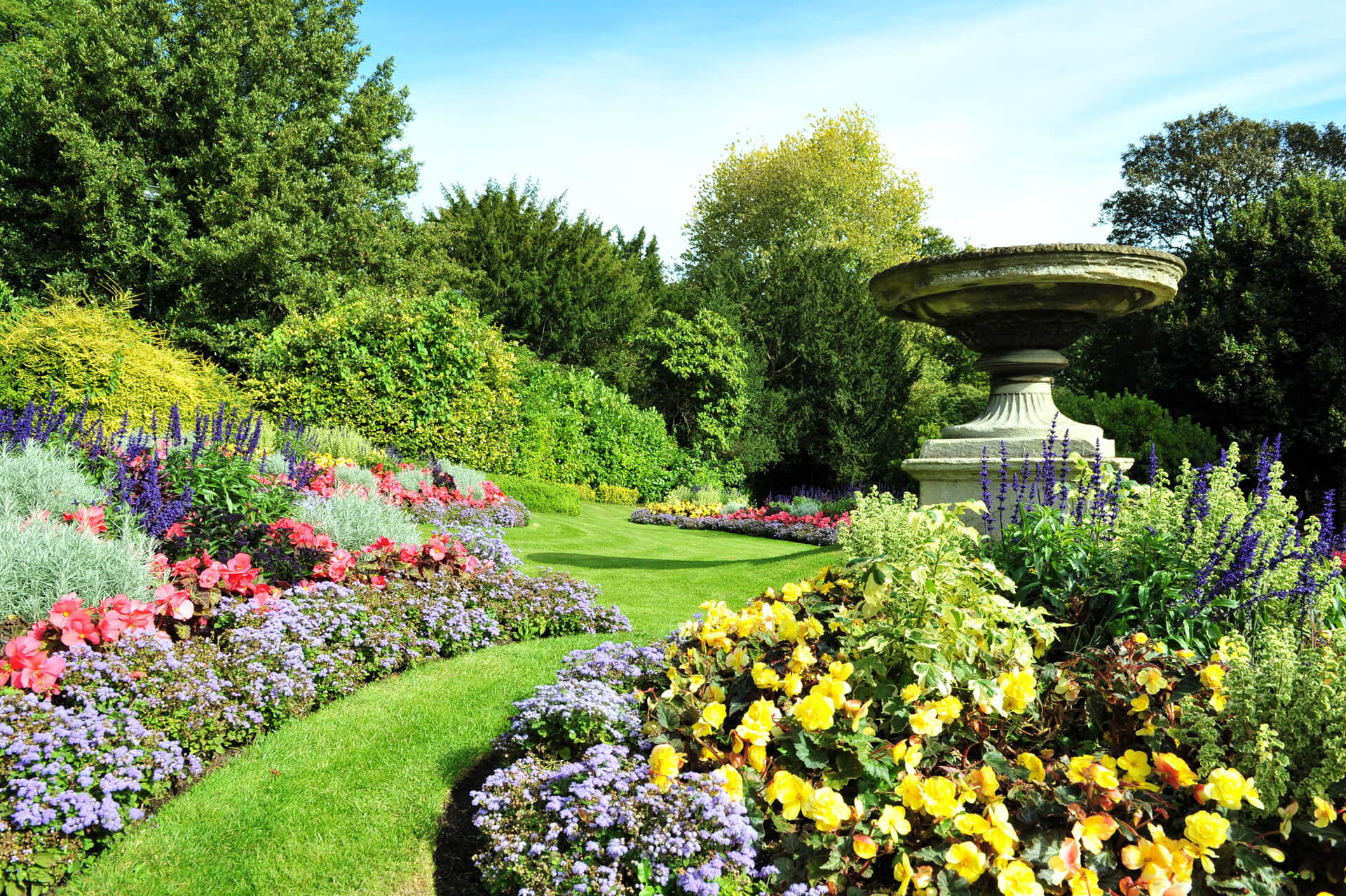 So you were super busy cleaning up the mess your yard became during an abnormally harsh South Dakota winter, and missed out on the prime window of opportunity for spring landscaping, sound familiar? Believe us, we know all about it, and we understand your plight! But that doesn't mean you have to sit around and wait for fall, or even spring of next year. With a little know how, and some dedication, you can get your landscaping and gardening done during the summer months, and still have time to enjoy your yard! Here are some great tips to get you started, and remember we're always here to help with all of your landscaping and gardening needs, so stop on out and see us at Jolly Lane Greenhouse!
Your lawn loves you, love it back
Your lawn probably takes up the majority of your space, so let's make sure it's properly cared for before we start branching out into other areas.
Like any living thing, your grass needs nutrients. In these warmer months, it's important to take steps to provide your lawn with the proper amount of nutrients it needs to grow thick and healthy. Keep in mind that over fertilizing or misapplying in the summer months can damage your lawn, due to the nitrogen in most fertilizers. For this reason, we recommend using a slow release fertilizer to give your lawn the nutrient boost it needs. Follow the instructions, or ask questions if you're unsure of how to properly apply the fertilizer, that's what we do here at Jolly Lane, we help beautify your yard!
When it comes to cutting your grass, you want to stay on the higher end of your lawnmower's height setting. Yes, this might mean more frequent cuttings, but your lawn will thank you for it. Maybe not verbally, which would be awesome, but it will thank you in the form of a healthier, more vibrant yard. Cutting your grass too short can result in browning and spotting throughout your yard, and you work too hard already to deal with that. You can lower your settings as summer progresses, but just remember that grass needs to stay at a certain level to fight off drought and other lawn hazards so do not cut too short, as this will destroy its natural ability to thrive. When in doubt, stay on the high side of that mower's blade settings.
Jolly Lane carries a variety of fertilizers and can help you decide which is right for your lawn, just ask!
It's all about the water
When you're doing your planting in the summer months, it's important to make sure you're giving your plants and flowers the water they need to flourish. If you're planting perennials, make sure to soak them well, and continue to water them daily or every other day for a few weeks until they're established. The key is paying attention to the plant — if it looks droopy, water it. It's also a good idea to make sure the water is getting to the roots, and not just running off the surface. You can do this by disturbing the soil and mulching around the plant to make sure it's holding in the moisture.
If you are planting shrubs, water them every day for a week, and then every other day for a couple of weeks. This should get them off to a healthy start, and keep them growing throughout the season. You'll want to be a bit more cautious with your trees, as most people have a tendency to over-water after planting them. A good idea is to dig down about six inches to monitor the soil, and only water them when the hole is half, to ¾ dry.
Another good rule of thumb to follow is to water deeply, less frequently. Making sure those roots are getting the most from their watering is more important than watering every single day. Be sure to do your watering in the mornings or evenings rather than during the day, as your plants, flowers, and shrubs will better retain the moisture, and not lose it to the soul-sucking afternoon sun and heat.
People also need to stay hydrated, which is why we offer cold beer and wine in the Garden Bar on Saturdays from 12-5!
Sun lovers and shade dwellers
To get the most from your summer planting, be sure you're choosing the right type of plants and flowers for specific parts of your yard. Plants and flowers have personalities too, and they have differing opinions about the summer sunshine. Some like it sunny and hot, while others prefer shaded and cool. This is one of those situations where it's sometimes best to ask your local gardening experts, like us at Jolly Lane, for advice! We can help you choose the right type of plants and flowers for your space, and ensure their beauty shines through the way they were meant to!
To make sure you're planting the right plants and flowers in the right places, it's important to understand the many shades of gray when we're talking about sunshine and shade. Here's a simple guideline to follow to make sure you're properly placing your new bloomers:
Full Sun- 6 or more hours of direct sunlight per day
Partial Sun or Partial Shade- 4-6 hours of direct sun per day
Full Shade- less than 4 hours of direct sun per day
So how do you know what parts of your yard get what amount of sun and shade? Well, one fun way to find out is to draw a diagram of your space, don't worry we're not really artists either when it comes to drawing, and watch your yard for a day. Start early in the morning and go out every hour and mark on your diagram which areas are getting sun and shade. Make note of how many hours each area is getting of both sun, and shade. This is a great excuse to spend a lazy weekend day on the patio!
From there you can better decide which plants and flowers to buy, and where to place them for optimum beauty and health!
Jolly Lane has plants and flowers for every corner and space in your yard, ask us which would best fit your lawns and gardens!
Get your newbies acclimated to the sun before putting them in the ground
If you have new nursery plants and flowers that you want to plant during these summer months, it is a good idea to slowly introduce them to your backyard oasis. This is oftentimes referred to as "hardening off", and ensures that they don't experience the shock of a less friendly environment. You can do this by taking them outside into the full sun for an hour a day for 2 days, then 2 hours for 3 days, then 4 hours for 3 days, and eventually get them into the full sun for the whole day. If possible, do this on a day that offers a bit of cloud cover, just to be on the safe side.
Another tactic you can use, is putting up a shade cloth. Using shade cloth is a great idea for protecting new plants (such as shrubs and bushes) that you've just planted in your landscaping. Not only will it keep the pounding sun off of your plants' leaves, but it will also help the surrounding soil retain moisture, and serve as a windbreaker against those strong summer storm winds.
Jolly Lane has a variety of shade cloth to choose from, each offering varying amounts of density and sun blockage, to help protect and acclimate your new plants and flowers.
Sure, landscaping and planting in the spring or fall might seem more ideal, but that doesn't mean you should throw in the towel on your summer efforts. There's plenty of time left to get your landscaping and gardens on track and looking beautiful, to enjoy for the next few months, and to also have them ready for their spring bloom next year. Stop in and see us at Jolly Lane, and let us help you with all your summer landscaping needs, it's never too late to sow the seeds of tomorrow!