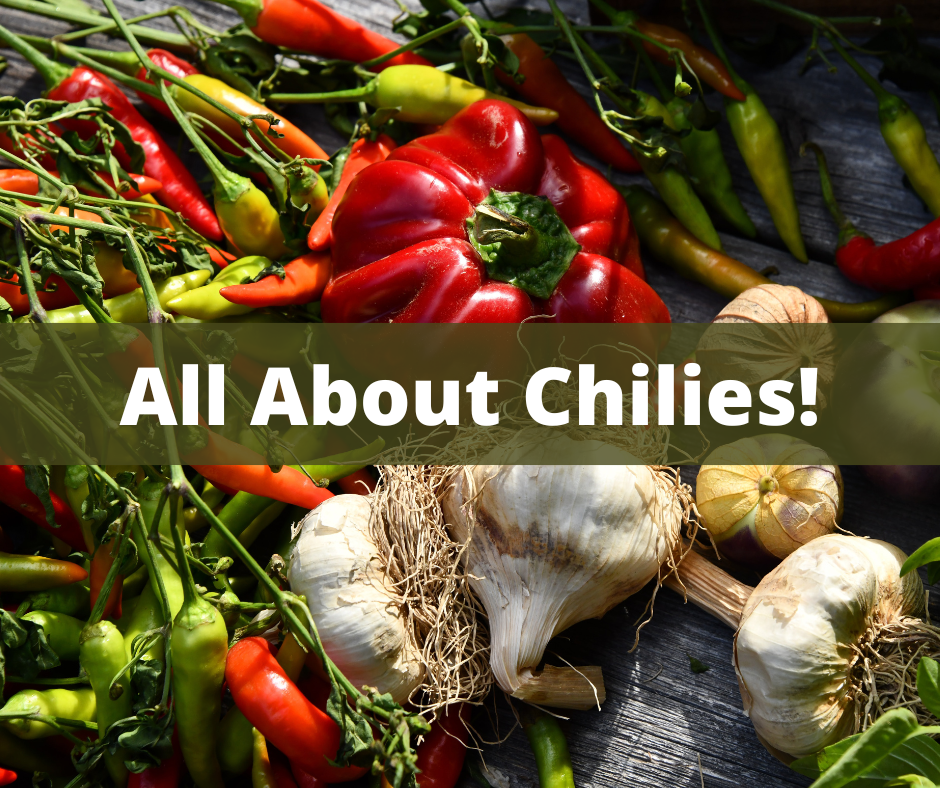 The event of the Fall season we all look forward to, The Annual Chili Pepper Festival at Jolly Lane Greenhouse is back; September 16th, 17th, and 18th! With an abundance of fresh produce, pumpkins and gourds of all shapes and colors, and the famous roasted chilies! Now that your tastebuds are tingling, all this will be paired perfectly with our Garden Bar, food truck vendors, and live music. Jolly Lane Greenhouse is here to share some flavor filled chili recipes to put your chili pepper haul to great use.
Chili Infused Oil: This recipe will take several weeks to finish, but don't worry, 99% of that is just waiting! Find a simple, clean glass container that will properly seal; whether this is just a reused jar, mason jar, old vinegar or olive oil bottle, just use your best judgement on the size for the amount of oil you want. Now thoroughly wash your hot peppers, and set those to the side to either sun dry or dehydrate them. You will want your hot peppers to look crinkled and very dry before you use them. Yes, this will take some time but will be well worth it with your note-worthy hot chili oil to show for it! When your chilies are ready, you can choose to make a small slit in each of them to speed up the infusion process but this step is optional.
Put your peppers into your container and fill the rest of the container with an extra virgin olive oil. When the oil is first added, your peppers will float to the top but as the hot peppers fill with oil they will gradually sink to the bottom. Let your oil mixture set for several weeks, you can taste it periodically to see if it's to your liking spice wise; eventually the hot pepper oil will be quite spicy! Once it's to your liking you can choose to remove the chilies or leave them in to make the oil spicier. There are so many options for use of this oil, you could drizzle some on a homemade pizza or pasta, put a dash in a homemade salad dressing, anything that you feel could use a hot kick!
Pickled Chili Peppers: Some might say this is the perfect condiment to pair with anything salty or food that's in need of acidity and robust flavor of spice! This recipe is completely customizable to your personal preferences; let's say you want spicier, use a hot variety of chilies. In the mood for something on the mild side, maybe make use of jalapenos! Or you could choose the route of leaving in the seeds and membranes for a hotter condiment or taking them out to lower the heat level.
How are you wanting to chop your chilies? Use a finer chop for adding heat to dishes, or opt for sliced chilies for adding distinct pops of flavor! If you're choosing to finely chop, try chopping in a food processer to sped up the process. Note: If you're choosing to slice your chilies, be sure to use a thicker, heartier chop. To ensure the chilies last as long as possible, store the chilies in a sterilized jar, store them in the refrigerator, and be sure the chilies are entirely submerged.
Sterilizing Jars: First wash the jars in dish detergent. Then in a large pot, add cool water and then add the jars. Boil your jars for a minimum of 10 minutes to sterilize, then take out the jars to cool and dry.
Let's move on to the real deal, wash your chilies and pat dry with a paper towel. Then cut your chilies how you see fit, pack your jar tightly with the chilies. In a small pot on a medium heat setting add 1 cup of white vinegar, 1 cup of water, 2 tbsp of sugar, and 2 tsp of salt. Bring to a boil. Note: Make sure your jars are warm before next step. Pour your vinegar concoction into your clean jars, cover all your chilies with this. Now once your jars are cool enough to handle, screw on the lid, and place them into the fridge. These pickled chilies will be ready after a day of sitting, but the longer they sit the further they will pickle with more flavor!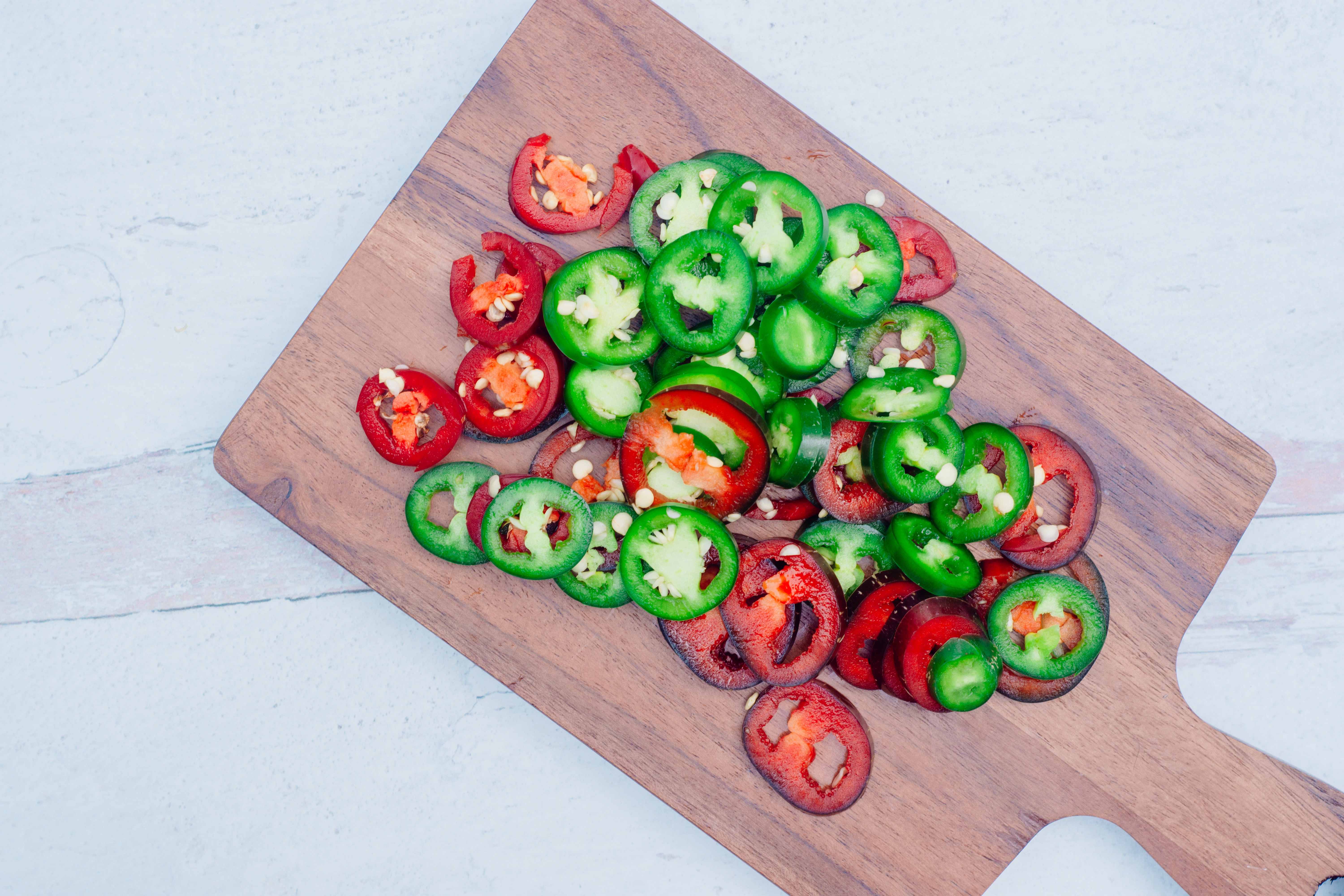 Full Flavor Recipe
Creamy Poblano (Pepper) – Chicken Enchiladas:
3 tablespoons unsalted butter

3 cloves of garlic (peeled and smashed)

2 chopped poblano peppers – or any pepper you prefer (remove stems and seeds)

¼ cup all-purpose flour

1 ¼ cup of chicken broth

1 ¼ cup whole milk

12 cup chopped cilantro, leaving extra for garnish

1 teaspoon salt

4 cups shredded rotisserie chicken

12 corn tortillas

8 ounces shredded pepper jack cheese

Juice of half of lime
Preheat your oven to 375 degrees. Use a large pan on medium heat and add one tablespoon of butter. Add garlic and peppers until fragrant and softened (about 10 minutes). Then add 2 more tablespoons of butter; once that's melted, slowly add the flour – stir and cook for a minute to cook off the flour taste. Now add in chicken broth and stir until smooth; using an emersion blender blend in pan until creamy. Add milk and stir, let simmer until the sauce thickens. Throw in your cilantro and salt and continue to stir to combine, then turn the burner off.
Coat the bottom of a 9x13 baking dish with a light layer of sauce, then ensemble your enchiladas by placing your shredded chicken on your tortilla, roll it up, and place in your dish (repeat with the rest of your enchiladas)! Pour the rest of the sauce over the top of your enchiladas and sprinkle the shredded cheese on the top.
Bake your dish uncovered for 15-20 minutes, after you pull your dish out of the oven, squeeze lime juice on top and garnish with cilantro. Now, dig in!
These recipes are perfect for any time of year but are especially good following Jolly Lane's Annual Chili Pepper Festival! Use your roasted chilies with eggs for breakfast, top your fall favorite chili, or freeze them for later use! The options are endless; so, join us for chili roasting, local beer/wine drinking, food truck snacking, live music listening, and plant gazing this weekend!