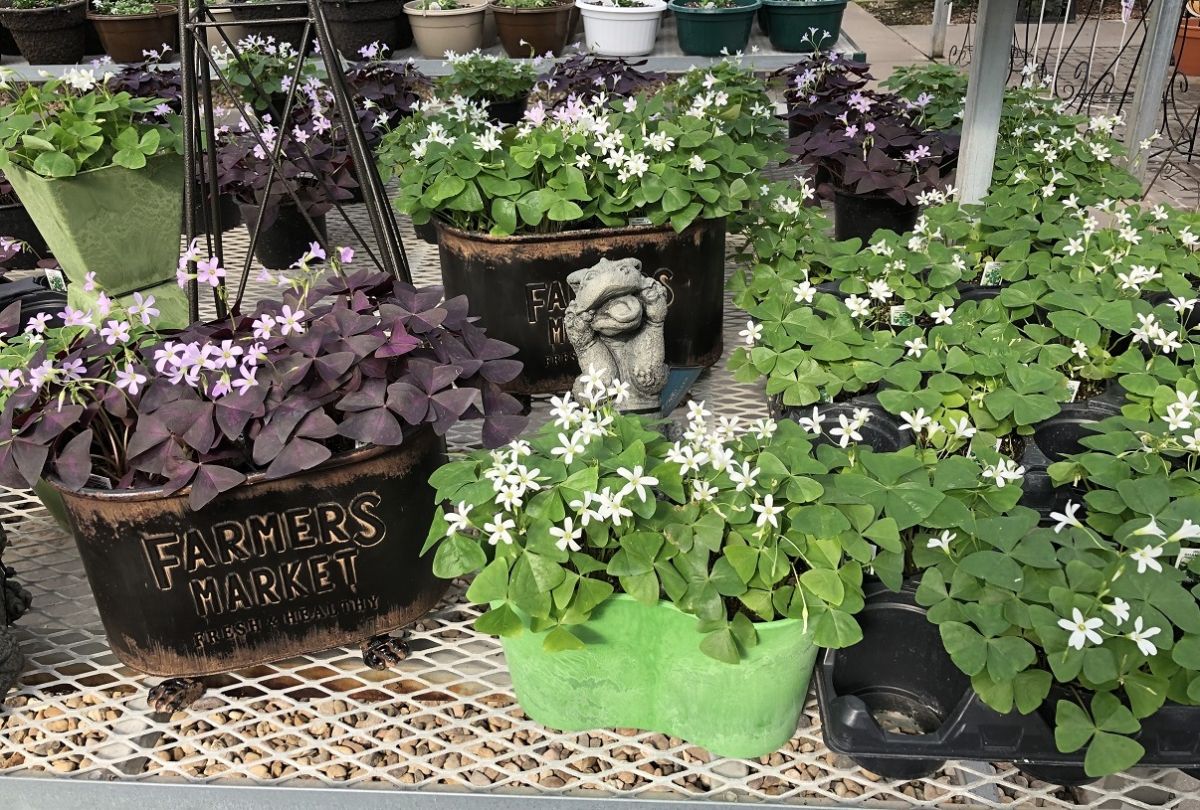 Spring has sprung and shamrocks are in full bloom in the Black Hills. Rapid City's finest greenhouse has a couple of varieties of shamrocks and we are very excited to showcase them again this year. Shamrocks also have an important history and are a staple to this Irish holiday that is right around the corner, so celebrate with us by learning all there is to know about these nostalgic clovers!
St. Patrick's Day is upon us and shamrocks are starting to appear in more places other than just at your local Irish Pub. The shamrock can mean many things to different people, like national pride, religion, history, celebration etc., but the history behind it starts with Saint Patrick himself. Saint Patrick used the three leafed shamrock to illustrate the doctrine of the Holy Trinity as he introduced Christianity to Ireland.
Throughout the 19th century, the shamrock became a symbol of rebellion and national pride when it was adopted as an emblem of the emerging Nationalist movement. Wearing a shamrock was considered an act of rebellion to Victorian England and a symbol of pride, hope, and patriotism to Ireland natives.
As time went on, the shamrock stuck as a national symbol of Ireland and today is one of the most recognizable symbols of Ireland and St. Patrick's Day in general. The three leaves of the shamrock are said to symbolize faith, hope, and love. Occasionally shamrocks will sprout a fourth leaf, which is said to bring good luck to the person to finds it.
Shamrocks can be seen everywhere on St. Patrick's Day, whether it be on Ireland-natives celebrating their heritage or on the leprechaun dressing party-goers of the city with a pint in their hand. As the St. Patrick's Day parades started flourishing throughout America in the 19th century, wearing the color green became a show of commitment to Ireland and its history. The shamrock became one of the most well-known symbols of this Irish holiday and let you know that when you see them blooming around you in March, it's time to celebrate with your Irish (or not) peers at the local pub!
Jolly Lane Greenhouse is full of excitement around this time. Spring brings in something new every year to enjoy, and the arrival of shamrocks in March signals the start of spring and time for us to start thinking of the warmer days ahead. In our Rapid City greenhouse, we have both the traditional green shamrock with its white flowers, as well as the lavender flowering shamrock with deep purple leaves. Both varieties are available in several pot sizes, so stop in and take a look around and pick up some luck for you and a friend this St. Patrick's Day!