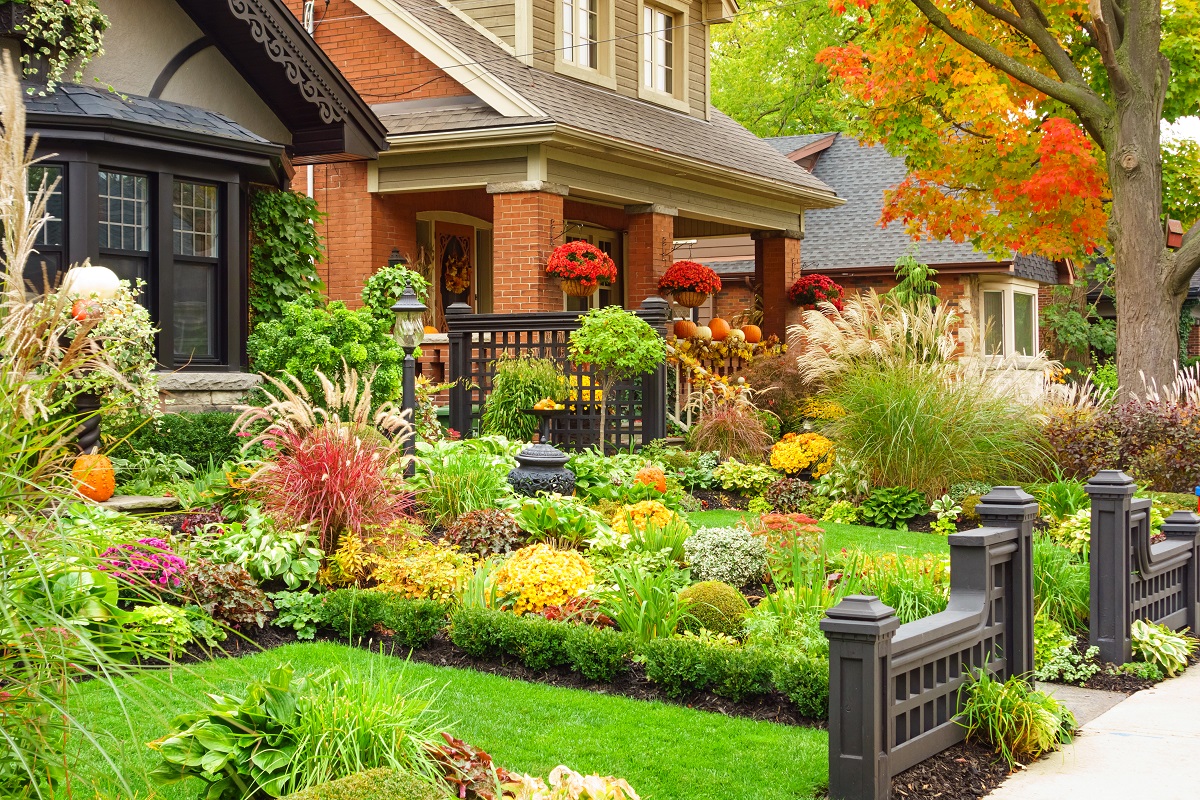 Fall is just around the corner, and what better way to participate in Autumn's splendor than by adding a splash of your favorite warm harvest hues (orange, red, yellow, brown, etc.) to your garden?! Just because the temperature and leaves are dropping, doesn't mean you need to hang up your gardening gloves just yet. From flowers, to fresh produce, to trees, the possibilities are endless, and we've got all of the tips and tricks to help your fall garden bloom.

Fall Blossoming Flowers

When it comes to fall flowers, there are a few varieties that truly shine. Garden mums, also known as chrysanthemums, are a classic choice. These hardy perennials come in a wide range of warm colors and can withstand cooler temperatures. Pansies are another popular option, with their delicate petals and vibrant hues. They can tolerate light frosts, making them perfect for early fall. Lastly, rudbeckias, also known as black-eyed Susans, add a touch of sunny yellow to your garden. These daisy-like flowers bloom well into the fall, attracting butterflies and bees.
A Harvest of Hues

Adding fall produce to your garden not only adds a pop of color but also provides you with fresh, homegrown ingredients for your favorite fall recipes.

Flowering kale is a great option for fall produce. Its vibrant purple and green foliage add a touch of drama to your garden, and you can also harvest the leaves for salads or sauteing. Pumpkins are a fall favorite, and they come in a variety of sizes and colors, from traditional orange to white to green or even blue. Not only are they perfect for carving or decorating, but you can also use them in pies, soups, and other delicious dishes. Gourds, with their unique shapes and colors, are another fun addition to your fall decor. They make great decorations and can even be used for crafts.
Plus, by incorporating fall produce into your garden, you'll not only enjoy their visual appeal, but also reap the rewards of a bountiful harvest.
Fall Foliage Filled with Trees and Shrubs

If you're looking to add some structure and foliage to your fall garden, consider planting some trees or shrubs. They provide year-round interest and can be the backbone of your garden's design. In the fall, certain shrubs and trees come alive with warm hues, making them the perfect addition to your autumnal paradise.
Hydrangeas are a popular choice for fall shrubs. Their large, showy blooms come in a variety of colors, including shades of pink, blue, and even deep purple. As the temperatures drop, the blooms may take on a vintage, antique appearance, adding a touch of nostalgia to your garden. Butterfly bushes, with their fragrant, cone-shaped flowers, also make a stunning addition to any fall garden. They attract butterflies and hummingbirds, adding movement and life to your outdoor space. Viburnums offer beautiful fall foliage with their leaves turning shades of red, purple, and bronze.
Similar to shrubs, trees can add the structure and foliage you need to complete your garden's anatomy.
There are certain trees that specifically flourish during the fall season with their vivid and bold warm hues. Autumn Gold Ginkgoes offer a distinctive and refined pyramidal form of foliage along with their gorgeous golden accents. They have a high canopy of foliage enveloping your garden with autumn vibes. Lastly, the Sensation Boxelder is a fast-growing cultivar, and can be selected for your garden for its shapely growth habit and striking red fall color.
These shrubs and trees provide a stunning backdrop for fall blooms and add depth and texture to your garden. And the best part is that we are currently having a huge sale on all of our trees and shrubs. Shop now and get 25% off your purchase!
Happy Fall Y'all!
As the seasons change, don't let your garden fade into the background. Embrace the beauty of fall by adding a splash of warm harvest hues to your outdoor space. Whether you choose to add fall flowers, fall produce, or fall trees and shrubbery to your garden, there is no shortage of options to make your fall garden pop.
Here at Jolly Lane Greenhouse, our inventory holds a diverse inventory filled with seasonal products and produce that will help you get prepared for autumn! Stop by our store and shop for pansies, pumpkins, butterfly bushes and more!
Fall Festival Coming Soon

Keep your eyes peeled for more information about our annual Fall Festival on October 14th coming soon!