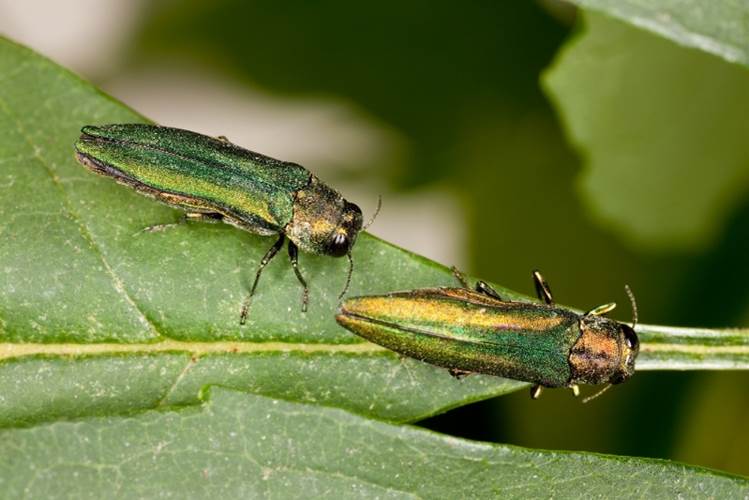 While it's important to take care of your flowers and garden, it's vital to check on your trees as well. Many ash trees in North America have been affected by emerald ash borer (EAB), which is an exotic insect from Asia that attacks ash trees. There's no known cases of EAB being in western South Dakota but it has been found in Sioux Falls. Jolly Lane Greenhouse encourages everyone to be aware of EAB and keep your eye on your ash trees. There are ways to treat and prevent emerald ash borer if or when it makes its way to this side of the state.
The first sign to noticing an infestation is if woodpeckers are drawn to your tree as they are searching for larvae to eat. This is the most common way to know something is up with your tree. If you see an increase in woodpecker activity, you will want to search your tree to see if it's being infested.
Prevention treatments aren't recommended until emerald ash borer is within a 15 mile radius from your trees. The number one prevention treatment is to use insecticides. There are three methods to applying the insecticides to your tree to help cover its entirety. These are soil treatments, systemic bark sprays, and trunk injections. All of these require annual application to protect your tree.
Soil treatments are injected into the soil within a foot of your tree and two to four inches deep. These insecticides will then be carried through the soil to the tree through the roots. This is not effective in trees already infested.
Systemic bark sprays are sprayed on the lower trunk of the tree. The insecticides are then absorbed through the bark and carried up by the sap to be distributed throughout the tree. Like soil treatments, bark sprays aren't effective if emerald ash borer is already infesting the tree.
Trunk injections can protect a tree from being infested or kill an existing infestation. Insecticides should be injected into the trunk of the tree. Trunk injections will cause wounds, but these can be minimal if you carefully choose your injection sites so they aren't right next to each other.
EAB can be spread by transporting firewood. It's important to always remember to buy it where you burn it. If you have concerns we encourage you to visit the SD Department of Agriculture's website about Emerald Ash Borer for current updates and to learn the symptoms, treatments, and prevention tips.