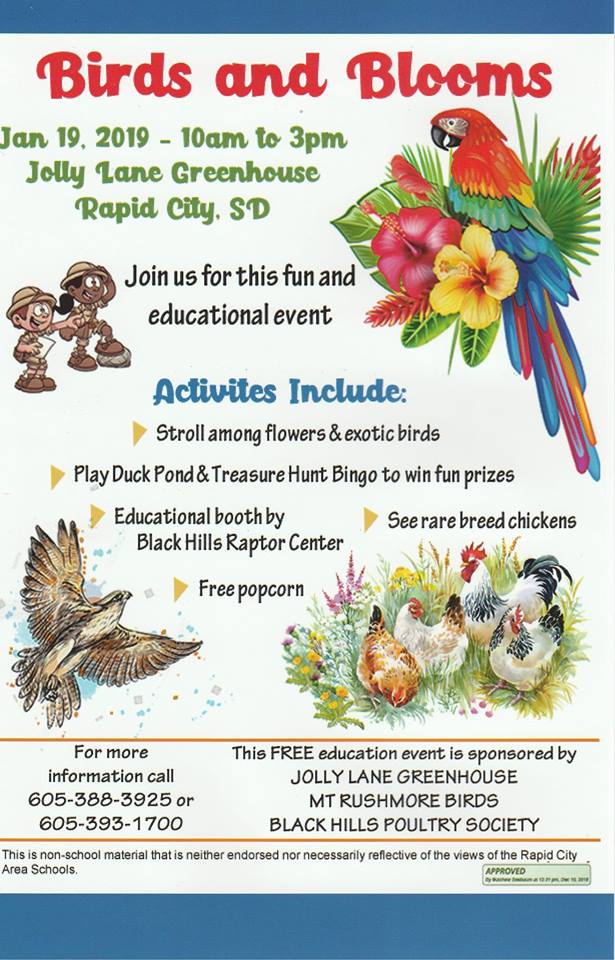 Join us January 19th this Saturday 10am to 3 pm, for the 13th annual Birds and Blooms Event! This annual educational event is put on by both the Mt Rushmore Birds and the Black Hills Poultry Society right here in Rapid City.

Stop by for this fun and educational event to stroll among the beautiful flowers and see exotic birds. You'll also see rare breed chickens, and your kids will love it because they can play our special duck pond and treasure hunt bingo games to win fun prizes!
We'll have every bird on site you can probably imagine, and a ton of special educational information on whichever bird types you're most curious about.
From the avian club's small birds, and large Macaws, to the poultry club's different breeds of chickens and even ducks and geese we'll truly have them all this weekend. It's simply a fun winter event taking place inside our nice and warm greenhouse!
Additionally we'll have many of our plants on sale too which you can browse while you're here.
So come down and see all of the beautiful flowers, and fabulous birds you wouldn't normally find during your day. And remember, the 13th annual Birds and Blooms event is scheduled for January 19th at Jolly Lane Greenhouse, and it's absolutely free. This is a one of a kind event that will be a great family time for anyone interested!
Enjoy the day by adding a more tropical feel to your winter routine, by hanging out inside of our greenhouse. Plus there's free popcorn and loads of information for all of the bird lovers in your life, we hope to see you there!