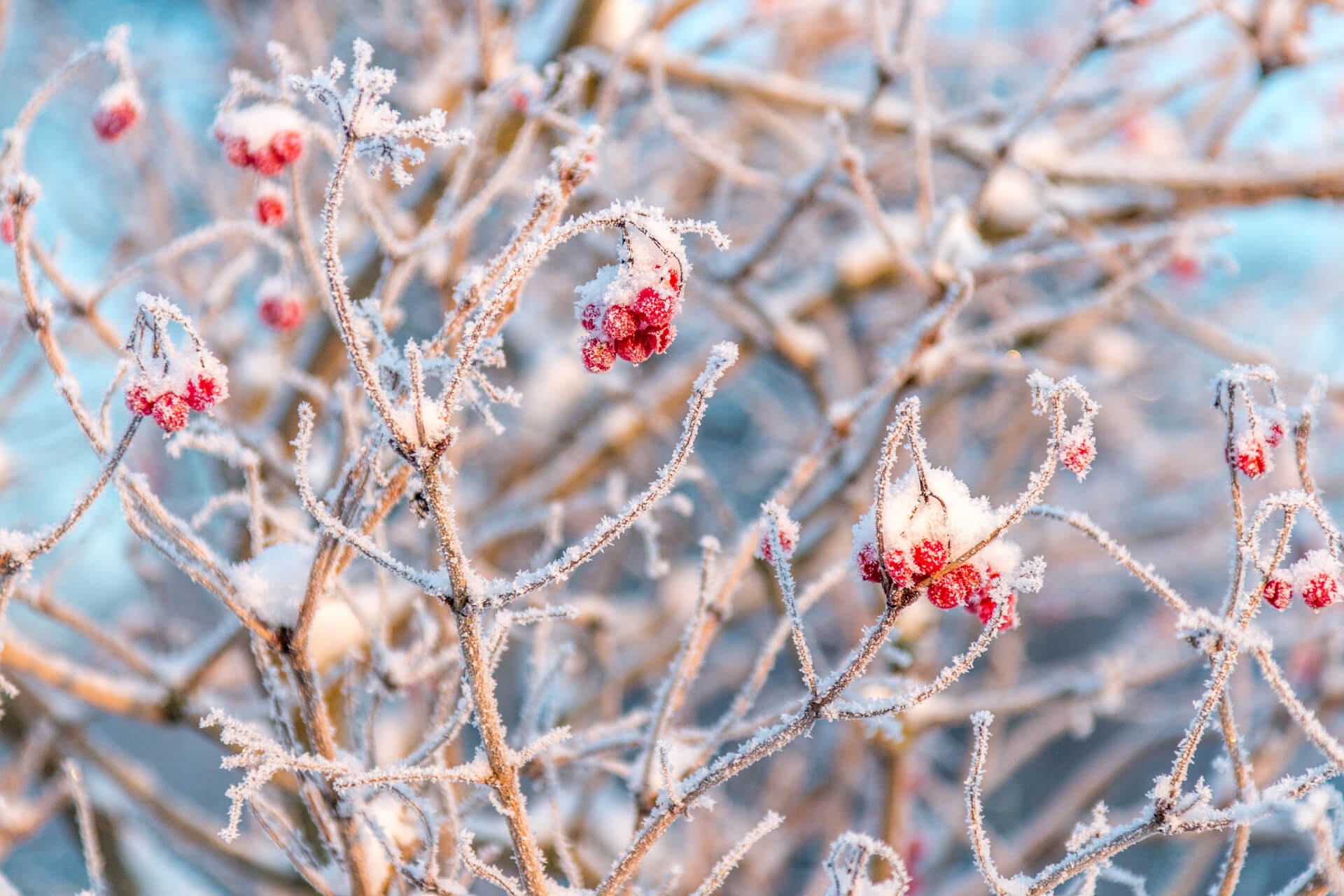 Freezing temperatures and snow are the harsh realities of winter, and wintertime care for shrubs and trees is important in order for it to stay healthy and blossom in the summer. Jolly Lane Greenhouse gives you some great growing tips that will help your garden handle the colder season.

Keep the area beneath disease-susceptible trees free from leaves.

Help protect smaller trees from bending and breaking by installing rope or twine on them as support.

Prune limbs that are disease infected when the plant is dormant, which will help prevent further infection. Make sure to sterilize your pruning equipment in between if you are working on several different trees or shrubs.

Plants with weak limbs are more susceptible to winter injury. Heavy wet snow and freezing ice storms can weigh down tree branches and limbs causing them to weaken or break. It is a good idea to cover them up with with breathable burlap.

Start working on shrubs and trees with limited winter access first, before the snow sweeps in.

Remove hazardous deadwood and limbs that are close to power lines.

Deer frequently feed on the bark and greens of many shrubs and trees in the winter. Protect your plants by applying deer repellent treatments from becoming deer snacks when their own food supply gets scarce.

Under dry air and low precipitation conditions, shrubs and trees may need supplemental watering. Water only when temperatures rise above 40 F and apply it mid-day, in order to avoid freezing. If the water turns into a thick layer of ice and persists for more than a month, it can cause the grass to suffocate completely.

Putting 3 inches of mulch under the trees will help their roots retain water and protect them from frost damage. Spread the mulch in around 4 feet in diameter, and it will act like a cozy blanket for your tree.

Avoid pruning until after the trees have gone into dormancy. Pruning too soon can encourage new growth and if the frost hits, the ice crystals can damage the new branch tips and cause them to die the next season.

Maintain your trees and shrubs throughout the year in order to create the best possible conditions for your garden to stay healthy.

When adding new plants to your garden, opt for species that are native to the climate of your region. If they are native to milder zones, the South Dakota winters will definitely take its toll on them.

We are a Rapid City nursery that provides helpful information to both green thumbs and beginning gardeners about horticulture in the Black Hills and surrounding areas. Our garden supply center houses a variety of plant selections, including shrubs, annuals, perennials, and herbs, as well as garden décor. At Jolly Lane Greenhouse, you'll find your senses stimulated by an extensive assortment of seasonal plants, shrubs, and trees from our garden supply centers. We have a variety of fragrant and brightly-colored foliage, bushes, evergreens, perennials, vines, ornamental grasses, and rose bushes there's something for every season!